The First Book: Agnes and the Butterfly Dragon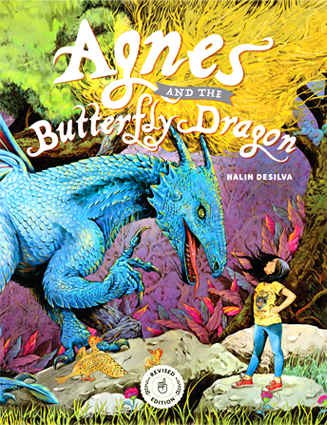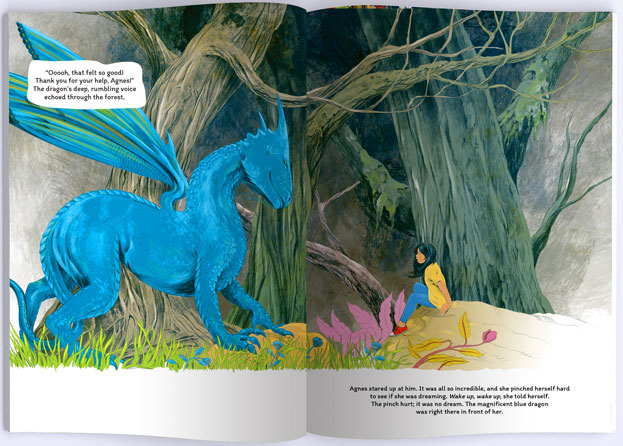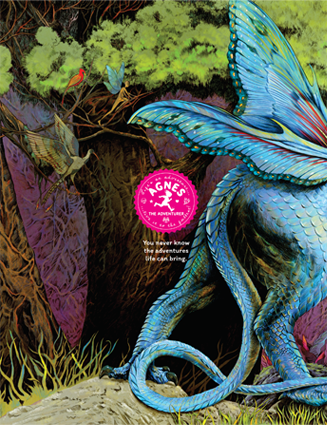 A deep dark forest that no one goes near — except of course a brave and adventurous girl named Agnes who decides to run through it with two of her unwilling friends in tow. What is in that forest that scares everyone? This is a story of an amazing discovery — and an incredible ending. Agnes and the Butterfly Dragon is a heart warming story of courage, empathy, and magic.
Softcover | 34 pages | Trim size: 8.5 x 11 inches. Published in 2020.
Coming Up!



There's a NEW Agnes the Adventurer story on its way. In Agnes and the Unruly Robot, Agnes has to help a huge robot fulfill his life's dream. Along the way, she discovers a fierce warrior race that rides insects and toads, and she meets a unique spider people with whom she forms a strong bond of friendship. This is Nalin's first complete book in a graphic novel format. "When I set out to illustrate the Agnes the Adventurer books, I realized I didn't have the room to draw everything I wanted to in a conventional book format. With a graphic novel, I can use every panel to my advantage and really draw the world of Agnes."
Life's an Adventure T-shirt



The Agnes the Adventurer tee is now available for all your young adventurers. Printed using discharge inks on Airlume combed, ring-spun cotton, the t-shirt gets super soft with every wash. Available in: Heather Muave, Dark Grey Heather, Black Triblend and White.
Agnes the Adventurer & Girl Power
EMPOWERMENT
Agnes is one tough cookie. She doesn't back down if she knows she's right. She's brave, resourceful, and intelligent, and is an ideal example of girl power. The Agnes the Adventurer brand is all about empowering girls to be all they can be, and more.
HEROISM
Agnes is a modern day superhero without the formal "uniform." She embodies the everyday girl who strives to be independent, courageous and empathetic.
INSPIRATIONAL
Uplifting, and a positive influence — kids can look up to Agnes the Adventurer. In this era of empowering women and equality, the Agnes the Adventurer brand encapsulates the ideals of a growing girl — resourceful, courageous and resilient.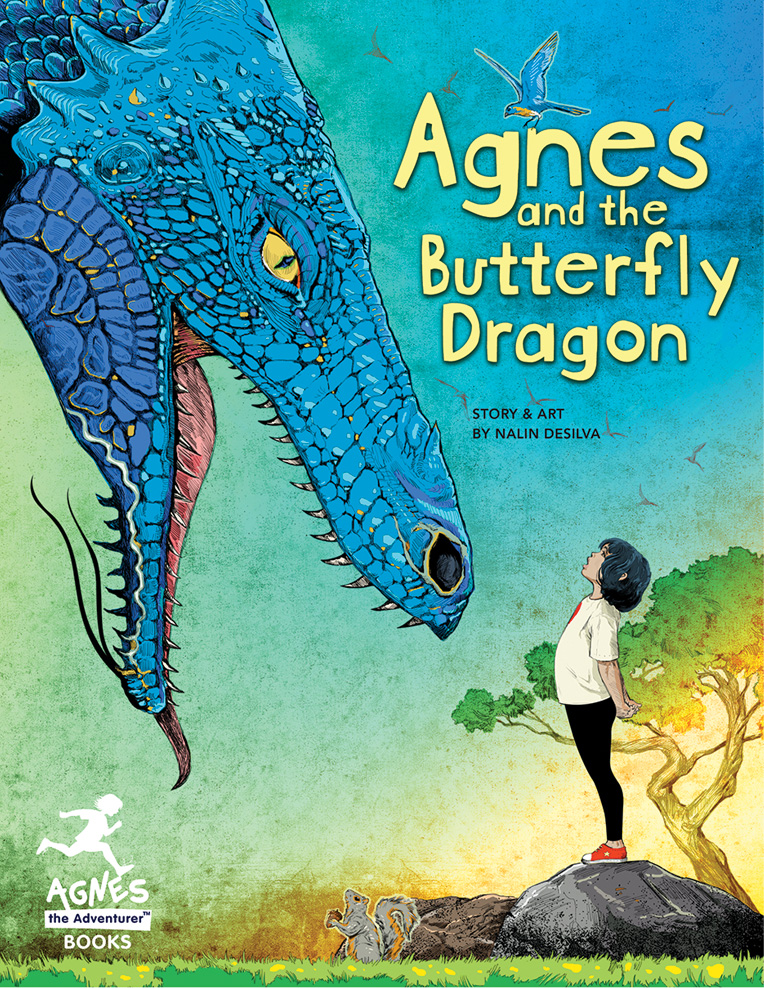 The ORIGINAL Book
You can still buy the ORIGINAL Agnes and the Butterfly Dragon printed book about the brave little adventurer Agnes, and her friend Archie, the huge, blue dragon. The book contains two production sketches that Nalin used as the basis of his final artwork. This is a terrific book to read to the little adventurers in your family, and addresses traits such as confidence, bravery, friendship, and the belief in oneself.
Softcover | 32 pages | Trim size: 8.5 x 11 in
Get the Books
A mysterious and forboding forest. A huge butterfly trapped in a monstrous spider's web, struggling to get free. A beautiful mermaid who is unable to help her sisters, and an overbearing, evil one legged pirate who is bound by greed. These are some of the characters in the Agnes the Adventurer books; stories of bravery and friendship. Spine tingling events and moments of pure joy. Agnes and the Butterfly Dragon and the second book, Agnes and the Mermaid Queen will delight children and anyone who loves adventure.
Shop Now
What People Say
"I loved the imagination involved and showing the kids the possibilities - that the unexpected can be wonderful and exciting! Also that trusting your instincts is important and can lead to good things."
Tina
"The artwork was gorgeous. I loved Agnes' assertiveness. She seemed so real."
Tanya
"Such a great story for children and it's a MUST READ by parents and teachers! I cannot wait to read about Agnes' next adventure!"
James
"I loved her fearlessness. Both in her ability to follow her instincts and also her ability to embrace the beauty of the dragon and the butterfly. That's a characteristic that should be predominant in all her future adventures."
Henry
"How nice it is to read a children's book with a strong little girl in the lead. Agnes is a spunky and brave character, and she's not bratty, whiny, or sassy. You know Agnes is brave because she isn't afraid of insects. Her first adventure could prove helpful in encouraging young children not to fear the creepy crawlies that are out there in the world. The illustrations are also vibrant and amazingly detailed. If you're looking for a book with a female main character who is not a princess, this is a great one to check out!"
Lee Anne
"She is spunky and fearless."
Verified Reader
"I love the adventurous spirit, her tenacity and the fact that she's a GIRL!"
Verified Reader
"Thank you for having a strong character like Agnes for her to look up to!"
Brenna
"I see Agnes as a spunky girl who doesn't let herself get bullied — because she believes in herself. She is driven by her desire to 'fix wrongs' and wants to stand up for what she believes in. That drive is greater than her fears so her actions appear as brave. What makes her endearing is that, like any other child, she has fear and she feels and acknowledges it. What makes her stand out and be ultimately inspirational is that she pushes through her fear because she believes in what she is trying to do."
Verified Reader